POMA (Preoperative Medical Assessment) F.A.Q.
GP2: 212-241-7778 (please use this number judiciously, and do NOT provide this # to patients)
Please remember:
If the patient already has a PCP ATTENDING at IMA, POMA should be done at IMA.
If the patient does not already have a PCP at IMA, POMA should be done at GP2 or with their PCP.
If the patient already has a PCP RESIDENT at IMA, POMA should be done at GP2 ONLY if the surgery is being done at Mt Sinai. If outside of Mt. Sinai, the pre-op eval must be done by resident PCP/team at IMA.
What is POMA?
POMA or Preoperative Medical Assessment is a hospital wide initiative that aims to promote and improve surgical safety and outcomes. POMA is a comprehensive tool that assesses patient's clinical risk factors prior to surgery. The goal is to ensure that patients with major medical problems are assessed in a standardized, evidence-based way by a medical clinician to ensure that they are medically optimized for surgery.
Who needs a POMA?
POMA is required for:
DAS (Day of Admission Surgery) patients scheduled who are ASA 3 or 4
DAS or Ambulatory surgery patients with a BMI ≧ 40 (use BMI 39 as a cutoff)
ASA 3 is defined as a patient with severe systemic disease.
ASA 4 is a patient with severe systemic disease that is a constant threat to life.
For patients that are IMA patients WITH a resident as a PCP AND having the surgery at MT. Sinai → surgeon's office should schedule the POMA at the pre-op clinic located in GP-2.
If the pt is NOT an IMA pt, OR an has an attending as a PCP, OR is having surgery outside of Mt. Sinai → pt should be instructed by the surgeon's office to schedule an APPOINTMENT in IMA with their/covering provider to get their POMA.
Who is responsible for patients' ASA score?
The surgeon is responsible for the ASA score. It is required before they can book their cases.
Anesthesiology should be paged for help if ASA score is unclear.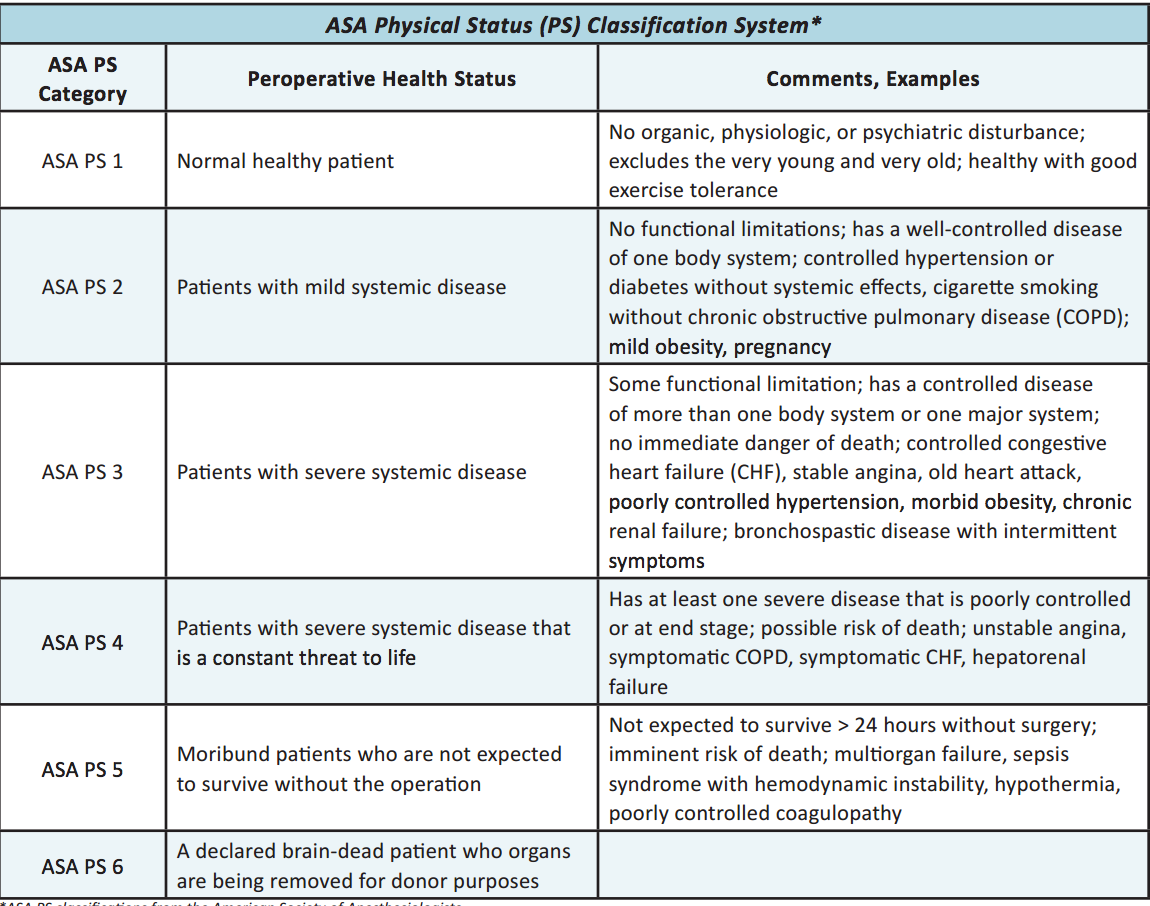 How long is POMA valid?
It is valid up to 60 days. However, a new POMA is indicated if there has been a change in patient's clinical status OR the new procedure has much higher risk compared to what the POMA was originally intended for.
Who can do the POMA?
Any credentialed Mount Sinai Internist or medical subspecialist can complete a POMA.
Medicine residents, fellows, NPs and PAs can also complete POMA and case must be discussed and co-signed by a Medical Attending physician.
How do I complete the POMA in EPIC?
POMA is found in the rounding navigator and follow and complete all the tabs. Instructions on how to complete POMA are on the Intranet.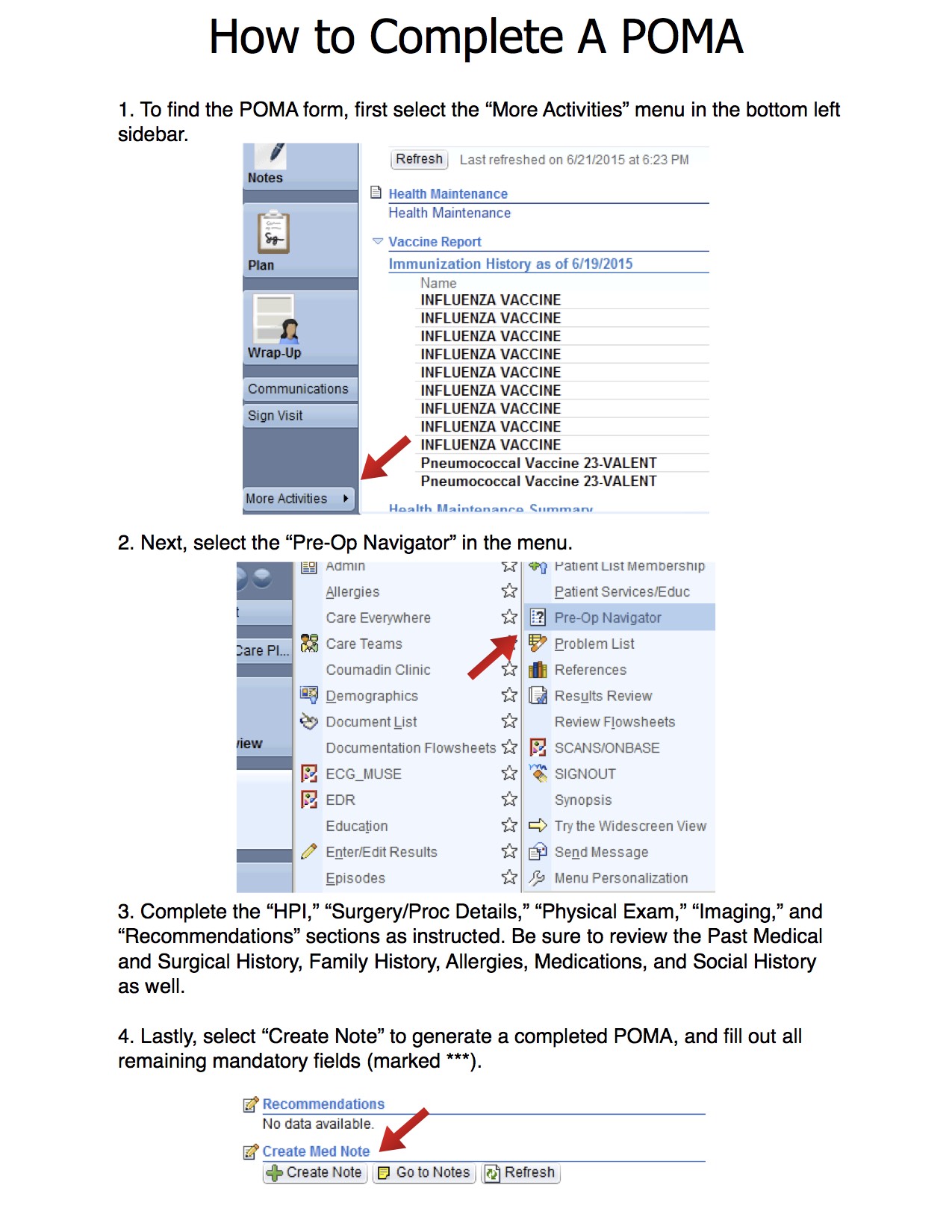 What procedures are included / excluded from POMA? (as of June 2014)
INCLUDED:
MAIN OR
MRI under MAC
IR
Cystoscopy
EXCLUDED:
Cardiac Cath lab
EPS/ablations
Endoscopy: (even if done in the main OR)
Bronchoscopy in the bronchoscopy suite (but not in main OR)
Ambulatory Surgeries (except above)
Category 1 (emergency)
Category 2 (surgery within 6 hours)
Transplant surgeries
Age 21 or younger
What are the pre-op recommendations for patients who are morbidly obese or have OSA?
The Obesity/OSA work group (hospitalist/surgeons/anesthesia) have come up with this consensus perioperative recommendation for obese patients with OSA or suspected OSA. Kindly free text and use the language below.
BMI 40+ with KNOWN diagnosis of OSA. "Institute appropriate and clinically relevant peri-operative precautions/interventions (including CPAP / NIPPV)"
If a patient has known severe OSA and is non-compliant with CPAP / NIPPV then consider delay of surgery if possible and refer back to pulmonary.
BMI 40+ with SUSPECTED OSA (not diagnosed). Use STOP BANG screening tool for OSA

If score ≦ 2, patient is LOW risk for OSA. Routine pre-op recommendations.

If score ≧ 3, patient is at HIGH risk for OSA. "Consider appropriate and clinically relevant peri-operative precautions/interventions (including CPAP / NIPPV)"

If score ≧ 7, OR patient is very symptomatic. Patient is VERY HIGH risk for OSA. Consider delaying surgery for preoperative sleep study / evaluation and appropriate treatment