Place referral in Epic: AMB REF to COMMUNITY PARAMEDICINE
Community Paramedicine provides in-home urgent evaluation, treatment, and stabilization for patients who have acute symptoms. The goal is to reduce unnecessary ED visits and hospitalizations.
After the service is called, a paramedic will arrive at the patient's home in 2-3 hours and provide a thorough history, exam, and EKG if needed. There will be a video telehealth conference call with the paramedic and an ED physician. The ED physician will direct the care. The referring provider does not need to be involved but can join the call if desired. The paramedics can administer medications for heart failure, asthma, COPD, allergic reactions, and diabetic emergencies, and can assist the patient with taking their own medications. See formulary below. They do not carry antibiotics and cannot change Foley catheters. Currently, they cannot do point of care testing.
The ED physician can e-prescribe medications for your patient. Our physician will document the encounter in EPIC. If the patient remains at home, the paramedic will call IMA prior to leaving the patient's home to arrange for follow up care.
*Please do not refer to Community Paramedicine if you know patient needs to go to the ED. In this case, 911 should be utilized.
Inclusion / Exclusion Criteria: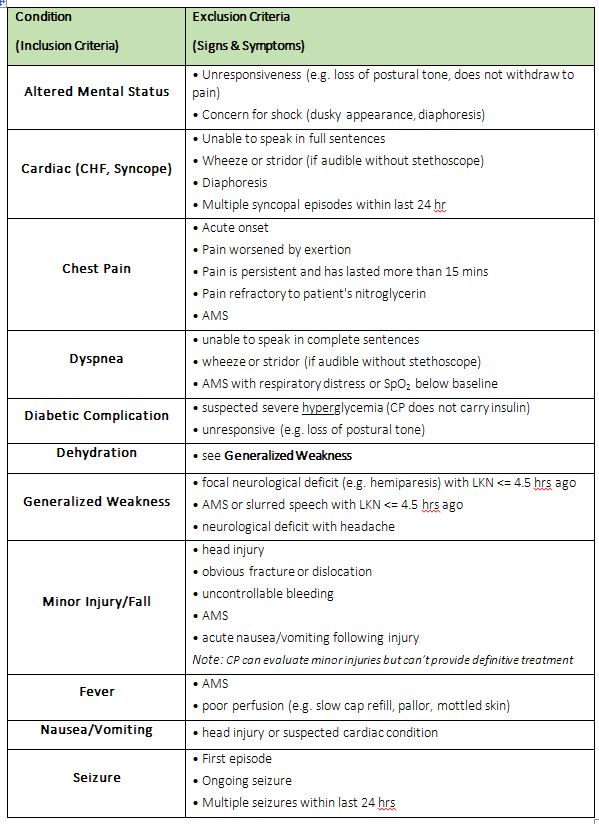 Formulary: